I finally get to host the MilSpouse Weekly Round Up! This was all started by
Riding the Roller Coaster
and even if I don't remember to link up every week, I love to read through everyone's posts.
The wonderful thing about this meme, is that you don't have to write anything! Just pick a post from the last week and link it up. Then spend some time visiting the other MilSpouses on the list.
So just a little about Our Crazy Life...
I am Athena, aka mama2six.
Together with my Soldier, we have six amazing Army Brats.
He is about half way through his 400 day tour.
We have been married for
almost 19 years
. It doesn't seem possible, especially since I am still 29!
Our oldest child just celebrated her
18th birthday
and will be graduating this Spring. As of today, we have three teenagers. Prayers are greatly appreciated!
I love to read and spend a good part of my time posting free ebooks for
Kindle
. For my latest list,
click here.
Thanks so much for stopping by!
Grab the button and link up your post.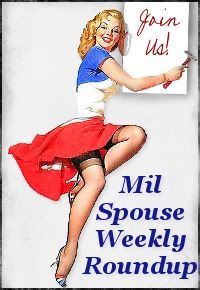 Don't forget to stop over at Churchy & Her Sailor next week to link up.
Have a great weekend!
Love,