Well, we are about 1/4 of the way through this deployment. It still doesn't seem real and I keep expecting Soldierboy to walk in the door at any time.
If you aren't military, there really isn't any way to explain the gamut of emotions that come with deployment: loneliness (yes, even with six kids running around), fear, anger, the list goes on.
Soldier boy's orders are for "no more than 400 days". This is not a rant about the Army or US Government, but I really don't know how they think that they can take a spouse (or parent) away for that long and not cause any damage. I know I am a big girl and I signed up for this, but that doesn't make it any easier and I hurt for my kids. My three year-old has started asking if daddy is in heaven with God and Jesus.
How do you explain war to a preschooler?
I know fear is not from God, but that doesn't stop the momentary panic that happens when the door bell rings unexpectedly or a call comes in from a number I don't recognize. 'That' thought is always there.
Would you please pray for our military men and women and the families that they are separated from? And if you know of someone who is going through a deployment, considering reaching out to them. You never know what they are going through and they probably need a friend right now. Need some help getting started? Click
here
for some practical ways to help.
Pity party over :)
The usual:
Remember, prices change without notice and books are usually only free for a limited time. Always check the price before buying.
You can read these books even if you don't have a
Kindle
by download the app for your device
here
.
If you like my posts, please follow my blog by 'liking' my
Facebook
page. I also post the occasional Kindle tip or free book there as well. (Get the books before I get around to putting them up here!)
There are still quite a few freebies from my last few of book postings. Please check them out as well. I wouldn't want you to miss a great read! (You can find them under "Previous Ramblings" on the right hand side.)
If you download a book, please 'share the love' using the buttons below the post to let your friends know and please leave a comment. I love to hear from you! Thanks!
Do come back often this month as there will be lots of book reviews and even a few giveaways. Last night I finished
Fatal Judgment (Guardians of Justice, Book 1)
by Irene Hannon and will be giving it away towards the end of the month. In the mean time, you can download her book
Against All Odds (Heroes of Quantico Series, Book 1)
free for Kindle.
The freebies:
The Healer's Apprentice
(I really enjoyed this one!)
A Woman Called Sage
Always the Baker, Never the Bride
These next few are free again and for younger readers (if you share your Kindle with your kids!):
Catwalk
A Horse to Love
Boyfriends, Burritos and an Ocean of Trouble
Sophie's Secret
I hope you enjoy these free books. Please take a moment to leave a comment so I know you stopped by and don't forget to 'share the love' on Facebook so your friends can enjoy them as well.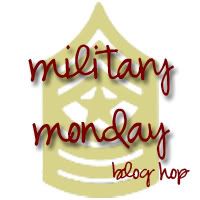 Linking up this post for the Military Monday Blog Hop - click through to
Marine Parents
to join in the fun!
Have a great week!
Love,