I
seem to be always starting a post off with a disclaimer, but once again, here it is:
I do not usually read books like this. Give me a sappy romance - ride in on a white horse and rescue me from the tower and live happily ever after in a castle - kind of book.
However, from the time I started The Pirate Queen
by Patricia Hickman. I couldn't put it down and finished it in one night (once again, staying up way too late!). It was not anything that I had expected.
From the publisher:
"The envy of all her friends, wife and mother Saphora Warren is the model of southern gentility and accomplishment. She lives in a beautiful Lake Norman home, and has raised three capable adult children. Her husband is a successful plastic surgeon--and a philanderer. It is for that reason that, after hosting a garden party for Southern Living magazine, Saphora packs her bags to escape the trappings of the picturesque-but-vacant life.
Saphora's departure is interrupted by her husband Bender's early arrival home, and his words that change her life forever: I'm dying.
Against her desires, Saphora agrees to take care of Bender as he fights his illness. They relocate, at his insistence, to their coastal home in Oriental—the same house she had chosen for her private getaway. When her idyllic retreat is overrun by her grown children, grandchildren, townspeople, relatives, and a precocious neighbor child, Saphora's escape to paradise is anything but the life she had imagined. As she gropes for evidence of God's presence amid the turmoil, can she discover that the richest treasures come in surprising packages?"
The Pirate Queen
is packed full of emotion from the very start. I found myself laughing, crying and even wanting to yell at the characters. Patricia is a very talented author and her writing drew me right into the lives of Saphora and Bender. It is a heart wrenching story about love, forgiveness and finding God in the midst of life's circumstances. A lesson that I need over and over.
I am looking forward to reading more by Patricia Hickman, but next time I will stock up on the Kleenex!
(Download a sneak peak of The Pirate Queen here.)
Now for the contest!
How to enter:

1. Main entry - Leave a comment sharing your favorite type of book (do you like romance, mystery, etc?) and the last book you read.
Bonus entries
- Please leave a separate comment for each entry.

2. Like "

Our Crazy Life

" on Facebook (or if you already do, leave a comment letting me know!)
3. Share this post on Facebook - or any other Social Networking Site using the "Share the Love" buttons below the post. One Bonus entry per 'share', make sure to leave a comment for each entry!
4. Follow me on Google Friend Connect (or if you already do, leave a comment letting me know!)
5. Add my button to your blog (Worth two entries, leave two comments!)
Make sure you leave a way to contact you, either by having your

reply-to email

address set

or by leaving an email in your posts.
Contest will end Friday, 1/21/11, at 10:00 pm CST.
Winner will be mailed a copy of Patricia Hickman's

Pirate Queen via media mail.
*Fine Print: I was provided with a complimentary copy of this book for review purposes. The opinions expressed are all mine and I was not required to give a positive review.
I hope you win ;0)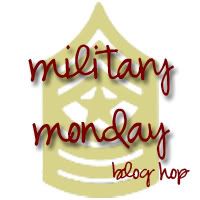 Hooking up this post for the Military Monday blog hop hosted by
Marine Parents
. Come on over and link up!