I am traveling this week, by myself. That means I got to sleep in (with no one in the king size bed with me), took a shower (with no one banging on the door), talked to the Soldier (with no one screaming in the background), watched t.v. (that didn't have any puppets or cartoons) and got to eat out (at a place without Happy Meals). The bad part? I really miss the kiddos :(
I am in the midwest and the first thing I noticed about this town was the corncob water tower. I wish I could have got close enough to get a better picture with my phone (I forgot my camera) and it was pouring rain at the time, but I wanted to share it since it is so cute.
current contest
for a copy of "My Foolish Heart" by Susan May Warren!
Linking up today with Flip Flops & Pearls: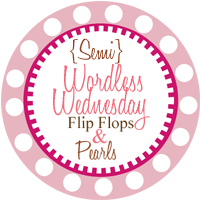 Love,