If you are a MilSpouse, you will totally get that every thing waits to break until the service member deploys. In fact, we have already had
our share of breakdowns
and I even had my own
pity party
last week.
Such was the case with our hot water heater last night - 2:30 am to be exact...
lovely cell phone pic of our ancient (now dead) water heater
Thankfully, I was up late skyping with my hero and heard a noise when I got up to lock doors and turn off all the lights. (How old do kids have to be before they learn to turn them off?) Because the Soldier was still online, I was able to call him - thank Jesus for the wonderful skype cell phone app!- and have him walk me through what to do. I was able (with a
little
lot of help from the 13 year-old) to get it drained and pretty much cleaned up.
Now I have something else to add to my
list of things I hate about deployment
.
Off to do mountains of wet (and now smelly) laundry...
I hope your week is better than mine!
Linking up with Flip Flops & Pearls: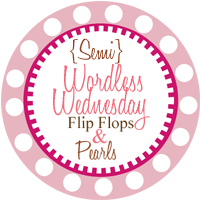 Love,